Veterinarian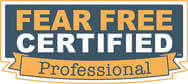 Dr. Katz grew up in Montgomery County, MD and graduated from The Ohio State University College of Veterinary Medicine in 1989. He completed an internship in small animal medicine and surgery at the University of Pennsylvania in Philadelphia, PA in 1990.

Dr. Katz founded Muddy Branch Veterinary Center in Gaithersburg in August 1994. Dr. Katz really enjoys Internal Medicine, Dentistry and Surgery and has developed those interests extensively for over 25 years.

Dr. Katz lives nearby in North Potomac, MD with his wife Melissa Crow and their youngest daughter, Shira.  Lauren, their oldest daughter, had graduated from Kenyon College with high Honors.  Michael, their son, is enrolled in the University of Michigan School of Engineering.  You can often see Dr. Katz jogging around the neighborhood, biking or swimming.  He is a voracious reader and loves to cook for his family and friends.  His wife likes the fact that he makes a great house husband.  Currently, he has a huge cat named Eli, and two Flat Coated Retrievers, Dora and his new puppy Natasha.  Dr. Katz enjoys running and hiking!
---